News
color faxing
New and unique in the world: color faxing
And that will cost you in March and April no extra charge.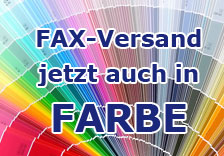 Colored drawings, the sketch for the new garden with handwritten comments, or even the most recent picture of your child, you can now easily, quickly and conveniently send and receive fax.

As the world's first and only service FAX.de offers its customers this new feature and opens up so many new possibilities. As an introductory offer our customers fax in color, but only pay the price of a B / W fax. This offer is valid until 30.04.2010. Try it out immediately! Starting in May, the price with 9.9 ct. lying on each side.

You can send faxes at FAX.de over the Internet and received no separate fax machine already for 8 years. FAX.de is a leading fax service provider in Germany. More than 300,000 customers are using the EASY-office fax software and especially when switching to VoIP telephony is EASY Office a useful addition. Today more than 25% of fax machines in Germany can receive a fax in color or high resolution. The software automatically transfers the document in the best possible resolution - depending on the fax recipient. So if a recipient has no available color fax, the fax in the "fine" resolution of 200 * 200 dpi is transmitted black / white.